| | |
| --- | --- |
| Posted on February 6, 2014 at 1:27 PM | |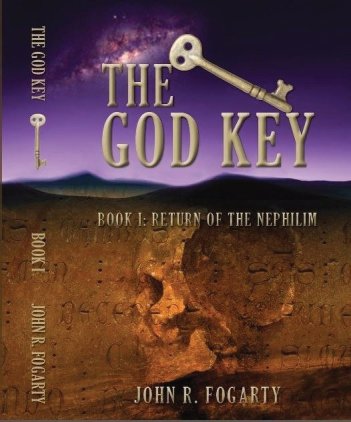 FREE 
Chapter 15,
THE GOD KEY,
Book I:
Return of
the Nephilim
by John R. Fogarty
Chapter 15
Dave wouldn't hear about the detective's death until the following day, by which time he would have other, more urgent concerns—namely, his head injury. The full extent of the damage was only now beginning to reveal itself.
It started with a series of dreams—extremely vivid dreams—of the silhouette he'd seen outside the museum. Now, here it was again: standing at the mouth of the recovery room hallway, watching him. No features or details of any kind, only a nacreous, pearlescent outline, like the absence of matter; a blank; a hole. The same one he'd seen watching them from Fayette Alley, just before the . . .
. . . then it was gone, as abruptly as it had appeared.
That was when the intern returned.
The giant, who'd been grinning at him from the hall earlier, was now leaning into the doorway of the recovery room, and—this time—leering at him.
Dave didn't know whether to leer back at him, say something, or prepare to defend himself—but with a concussion? Against a Goliath? Not likely. He'd have to find a weapon of some kind, try to disable or at least stun the guy before he—
—crossed the room in two long strides, wrapped his gigantic, six-fingered hands around Dave's throat and began throttling the life out of him, choking him to death right there in the recovery room. As he squeezed, the giant bent down and exhaled the most noxious, sickening breath Dave had ever smelled, right in his face.
"Goddammit," Dave gagged, but all that came out was a wet, glottal sound.
Worse, he couldn't budge the man's hands. They were huge: the wrists were like small tree trunks, while the hands themselves looked like Virginia hams—only bigger. All the SEAL training in the world wouldn't make a dent in this guy.
Then, the monster leaned even closer and spit something at him—into his face. His mouth, to be exact. The creature spit something hard and metallic into his . . .
( . . . key?)
. . . mouth, and he knew without looking, the way one does in dreams, that it was an old-fashioned skeleton key, with a skull at one end. Dave tried to spit the thing back out but couldn't. He was going to choke to death on a damned key.
Panic shot into his chest just as the giant stopped throttling him, smiled and . . . began vomiting on him.
Only it wasn't really vomit. It was a mouthful of  . . .
. . . photographs?
Yes: 35mm color photos.
The missing Roswell photographs.
Dave watched in numb disbelief as the long-lost photos poured from the giant's mouth. His revulsion peaked when the giant released him, picked up the soggy, puke-spattered photos and began stuffing them back into his mouth.
"My Glh . . . God . . ." Dave choked.
"God?" the giant managed, still munching on the photos. He chewed the last of them up, swallowed them down, and added, "Huh, God's dead."
Dave was incapable of a rational response. He lashed out with both fists, hammering at the giant's Adam's apple, hoping to crush the larynx or break the hyoid bone, but missing every time. No matter how hard he tried, he couldn't connect. It was like being in a bad dream. He needed a weapon, something to hit him with—
The phone!
Dave glanced at the bedside table. Holding his breath, he rolled over on his side, reached for the phone, and . . .
                           . . . woke up.
And glanced around the room.
He wasn't in the E.R., or Recovery or anywhere near the hospital. He was at some strange house way out in the sticks, and he remembered: Cyndi's country home, which she almost never used. And he was on the living room sofa . . . with Cyndi?!
She lay curled up nice and snug beside him, fast asleep.
***
"Hey, Cyn, wake up." Dave shook her shoulder. "C'mon, Cyndi . . ." He tried to lean over and shake her harder, but the dizziness whacked him again; he felt as if he were swooning. And maybe he was: this woman still had that effect on him . . . she was so beautiful, so perfect. And she was lying next to him. On her sofa. Just the two of them . . .
Maybe there was a God after all.
She awoke and stretched languorously, luxuriously, like a cat.
"C'mon, Cyn, get up," David urged. "It's eight o'clock."
"Mmmh? Eight?"
"Yeah, we gotta roll or we'll be late for work."
"Work?" Cyndi finally came to and sat up beside him. "What time is it?"
"Eight."
"In the morning?"
"I think so," Dave said, sounding unsure; all he could see was the wall clock.
Cyndi leaned over the edge of the couch and glanced out her living room window. The woods and fields beyond lay blanketed in blackness.
"It's eight at night, Nimrod," she said, with a sigh. "Besides, you're on leave."
"Vacation?"
She turned her face to him and instead of the wry grin or smile he was expecting, she gave him only a blank stare.
"Hardly that," she said, finally. "You must return to Israel as soon as possible."
He blinked. The wheels within began turning—or tried to. "Did we . . . eh?"
"Eh, no, we didn't. I merely kept an eye on you so you wouldn't die. Once I saw you would survive, I must have nodded off here."
"What about Attila?"
"We picked him up from your apartment on the way home," she answered. "Don't you remember?"
David shrugged one shoulder. "I can't remember anything."
"He's sleeping right next to you, on the floor." She pointed to a spot next to the sofa. Dave glanced to his right and saw the raggedy old Siamese curled up below him. Attila was lying as close to him as possible, without actually being on him.
"Little bugger," Dave said, surprised at the lump in his throat; probably indigestion.
"Oh, I fear you won't be seeing Detective Lacy again."
"Huh?"
"He was run over in the hospital parking lot last night. Cut in half, they say."
"What?"
"Hit-and-run," she said. "So? Are you?"
"Am I what?" He was conscious of a swimming sensation between his eyes.
"Going back to Israel?"
Dave paused to gather what was left of his mind. His brain simply did not want to function: the wheels within felt gummed up, clogged. The pain medication, probably.
"What does that have to do with Detective Lacy?" he asked.
"So you avoid the same fate," she replied. "That car is still out there."
"Uh . . . not right away, no. I'll worry about God Keys and Doomsdays later, OK? I've got an appointment to keep on Wednesday. With your friend, Galileo."
"But you can't move," she insisted. "Your head—"
"—Is made of stone. Or so my editor tells me. A few bumps here or there won't matter. Here, help me up."
"You can't see Dr. Galilei today."
He turned toward her, swaying a bit and blinking, as if hungover.
"That's right, it's only Tuesday, isn't it?"
"It's Wednesday, all right. But you can't drive anywhere. You've got to can—"
"I've lost a full day? Without a single drink?" He touched his forehead.
"You're staying here, on the sofa."
"But Attila needs his food," he replied. "And I need my car and clothes and—"
"Forget it," she said. "They're probably watching your apartment, the observatory, all the places you usually go. Until we can get a fix on these people, and what they want, you're not leaving this house."
"Yeah, but—"
"I'll take care of things, you stay put on that couch. I've got to get us some food, too. There's nothing here to eat. Oh, one more thing . . ." She rummaged in her purse.
"Yeah?"
"Your doctor found this on the floor of the Recovery Room, by your gurney. Is it yours?" she asked, as she handed him the object.
It was a slightly damp, but thoroughly solid, skeleton key.
With just a trace of his saliva on it.
"OK, look, I don't . . . think I'm feeling . . . all that well, just now. Maybe I should just go back to my place, crash for a few hours and—"
"Just lie still and do as I say," she said.
And with that, she took his head in both her hands, planted an incredibly juicy kiss on his mouth and gave his skull a slight twist.
And he was out. Cold.
She pocketed the key and left.
#
End, Part One
Categories: AA Authors, Ancient Aliens, Ancient Astronauts, Anunnaki & Nephilim, Chariots of the Gods, Sumerian Myth, The God Key, The God Key, Book I
/