GREAT NEWS! - WE ARE PLEASED TO ANNOUNCE THE WINNER OF OUR FIRST ANNUAL DOOOOOMSDAY DAGGER DRAWING! 
The winning name was drawn from a batch of over 6200 names from all over the Facebook world.
Everyone who either a) shared The God Key's Facebook page with their friends OR b) bought a copy of the book from Amazon was automatically entered in the drawing. Naturally, those who spring for the book got two (2) entries for each book purchased, and one (1) entry for each time he or she shared the book's Facebook page with friends. The result?
6,207 entries in just the past three weeks. That's a LOTTA shares and a LOTTA books bought. Indeed, it's A Whole Lotta Love (apologies to Led Zeppelin). The result?
ONE WINNING NAME WAS DRAWN AT THE STROKE OF MIDNIGHT, Friday, 12-21-2012 (with that many slips of paper, we had to abandon the hat or turban idea and used a USPS shipping box instead). And the winner is...(drum roll, please)
... Naren Sai, of Hyderabad, Andhra Pradesh, India!
Congratulations, Naren! Look for your Koummya dagger in two to four weeks, depending on holiday mail traffic (here in the U.S., this is THE busiest time of year for the post office, so please be patient). Believe me, it'll be worth the wait.
I enjoyed this contest so much, I think we simply have to hold another. THIS time, though, it'll be a dagger featured in Book II: Tribulations, which is set in Latin America. We have a TON of very cool weapons to choose from in this region, including a few of my own (like the koummya, which is a 50+ year-old antique). I've a few Mexican and other Latin American relics in my collection that would have the average knife-collector drooling, including: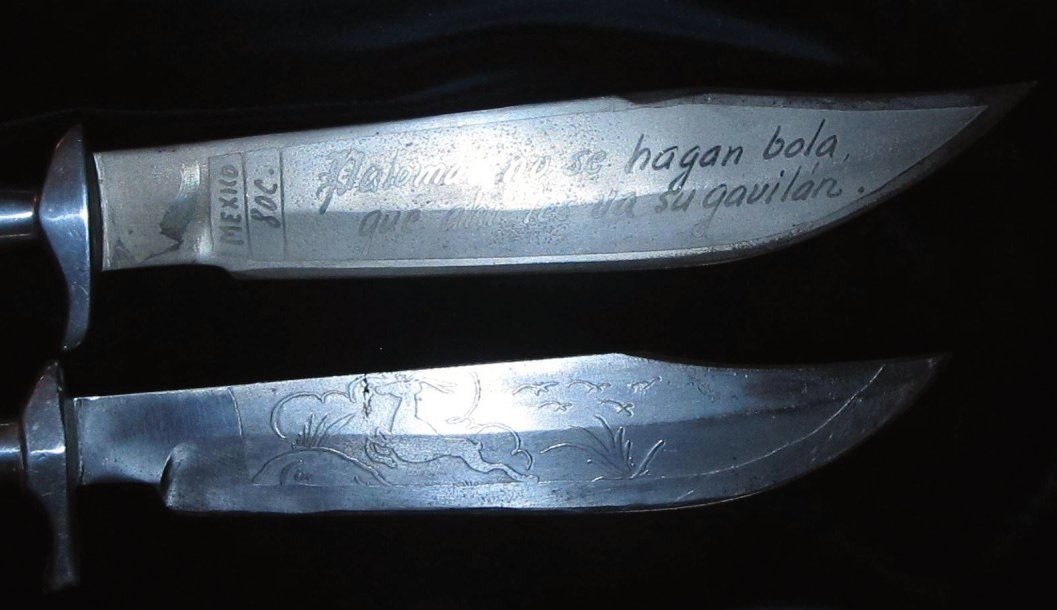 Pair of Mexican Bowies - 15" & 13"
Mexican Bowies
Honduran Machete
San Salvadoran Machete
Daggers, Work Knives, Sabers and other weapons from Peru, Argentina, Bolivia and Brazil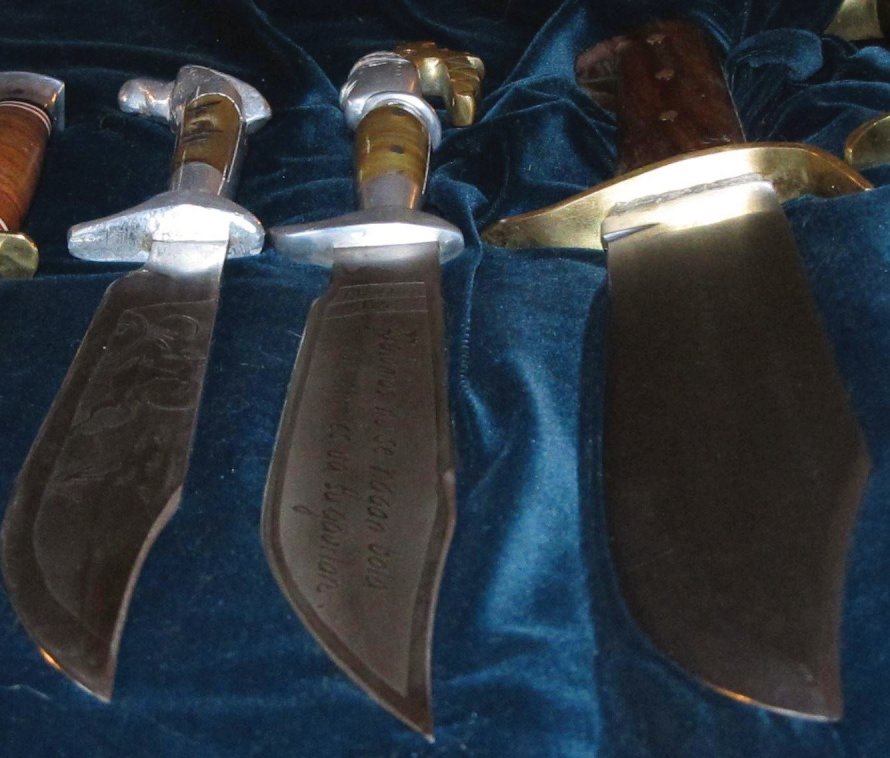 Only a few of these are newer than 1965. Most are antiques. Some are even fairly valuable. But, like the antique 16-inch Koummya awarded to Mr. Naren Sai, all are eligible. I don't mind giving them away, one at a time. Hey, if it increases the sales of my books, who am I to complain, right?
My Mexican Bowies again 
Right. So . . . onward and upward. Here are just a few of the Latin American and Mexican blades I have for the next contest: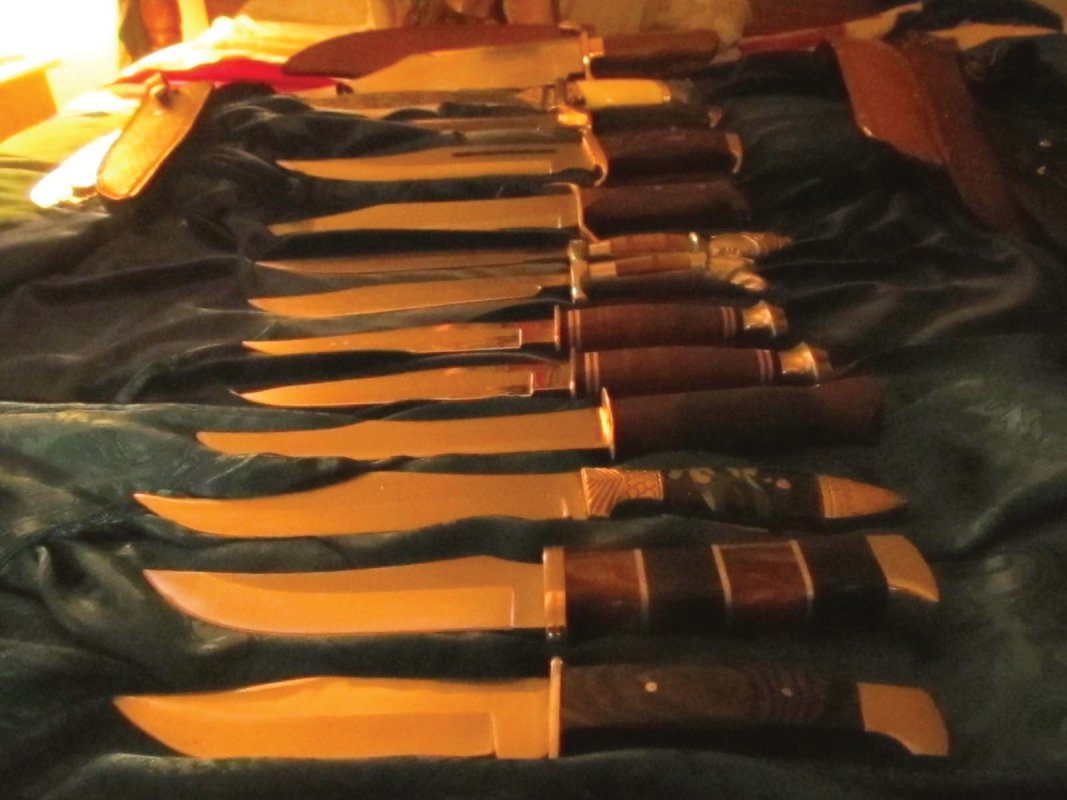 All right, so I couldn't choose just ONE. All the knives at left (and, yes, yes, my Mexican Bowies, too) will be eligible for the Book II drawing. I have to limit the selection just my relevant bowie knives (about 10-12) and my machetes from the region (3-4). After that, we're looking at Book III: Armageddon Outta Here . . .
Congratulations, again, to Mr. Naren Sai, on winning our first Dagger Drawing, and let's set our caps forward for Book II: Tribulation.
Sincerely,
Yours in Armageddon Gravy,
John
/